May 5, 2021 11:32 AM Central
Tammy Hawskworth
Do you enjoy take out, but prefer home cooked?
I enjoy take out, but not the prices of take out. So when I feel this way I try to re-create my favorite's at home. This one has been a huge hit that has served us well over the years and takes super yummy.

I have newly started adding Epicure Herb and Garlic seasoning and it has improved what was already a great recipe.
You can get this product from any local epicure rep, there seems to be lots around. I am NOT a rep.

This recipe can be used a a side or you can choose to add meat and veggies and make it a meal.

Hope you enjoy.

Tammy's Better than Take out Fried Rice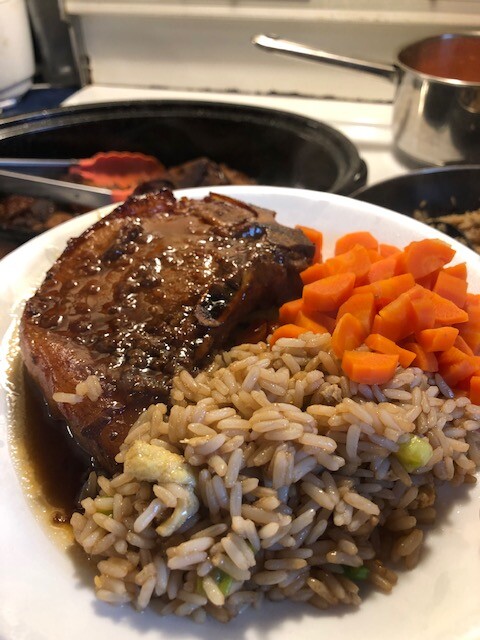 Ingredients
3 cup cooked long grain rice (1 1/2 cup rice plus 1 1/2 cups water boiled for 15 minutes and drained and rinsed with cold water)
1 Egg, scrambled
3 green onions/shallots chopped
1 TBSP olive oil
Optional seasoning, salt, pepper, Epicure herb and garlic seasoning(1/2 tsp)
Soya sauce to taste
Instructions
Add oil to pan and heat
Add egg and scramble
Add chopped shallots/green onion
Saute/Toos together
Add drained rice
Add seasonings
Add Soya Sauce
Stir/Toss until mixed well.
Serve hot.

*optional - can add choice of meat (I like to add chicken if I have some left over from a previous meal
**Optional - can add some cooked veggies, toss into rice
Enjoy!
Have an amazing and blessed day,

Love what you are reading here, subscribe to stay up to date!
You can also Follow me on the following social platforms...


I am have a number of affiliates and by clicking the link(s) in my posts, I may receive an income from your doing so, thank you for your support!