Nov 2, 2021 03:54 PM Central
Tammy Hawskworth
Pumpkin!
Something we have on hand now after Halloween!
So what do you do with the pumpkin remains? Do you just throw everything out?
Hold Up! You can create a yummy treat with the seeds. The pumpkin itself can be used for pies, muffins etc. however I rarely to that as I find it a lot of work. I prefer to do things that are fun and easy.
So after we carved our Halloween Pumpkin, I take time to remove the seeds from the pulp. This used to be really gross for me, and now I find it almost therapeutic.
I tend to only use the full seeds, and that are not matured, I pass them by. Just what I choose to do.
I then rinse then really well under the tap water to clean them.
Then I spread the seed out on paper towel or a clean dish towel, over night to dry.
For my recipe, I use the following ingredients: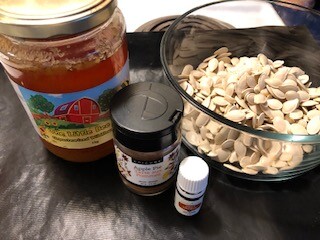 1.Pumpkin Seeds
2.Raw Honey
3.Epicure Apple Pie Spice
4.Young Living Ginger Essential Oil
I put my seeds in a bowl, then I add the honey. For about a good cup of seeds I used about 1 big tablespoon of honey.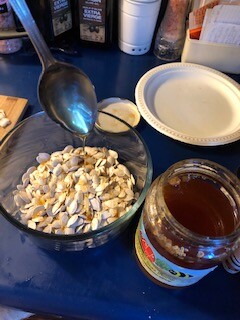 Next I added 1 drop of Ginger essential oil, because of the quality of oils I use I do not require more than one drop, in fact a second drop could be too strong. (Caution, be sure to choose an essential oil the is health Canada approved for ingestion. Many oils are not pure. I personally choose Young Living because of their
Seed to Seal
guarantee for quality.)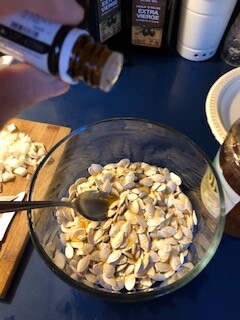 Next I added some Epicure Apple Pie spice, I could have added more of this, was so yummy! Was my first time using and I sprinkled instead of measured so was a guess for how much to use. I used about 1/2tsp.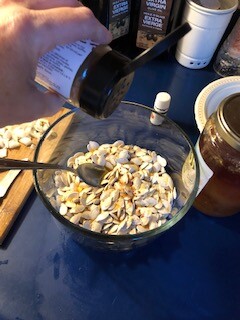 If you do not have this spice mixture, contact your nearest Epicure consultant today! I think it is a seasonal item, typically available in the fall. I enjoy this as well in homemade oatmeal.
Now stir this all together until the seeds are coated well and evenly.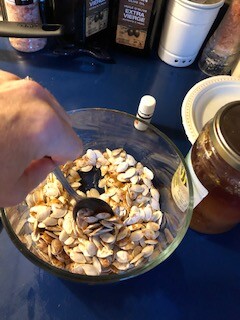 I then put them on my baking sheet which is lined with a
Teflon baking sheet
so they doesn't stick to the pan and clean up is easy peasy. If you have not used these, go grab one or two now! I have two and use them for anything baked.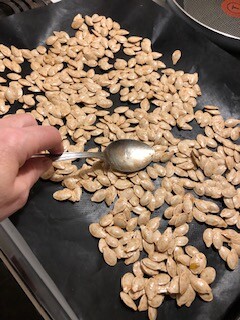 Preheat your oven to 400' and then pop your baking sheet in the over. I like to set my timer for 10 minute intervals so I can toss the seeds around for even baking. I did this two time and then decided on another 5 minutes with over then turned off and the heat from just in the oven.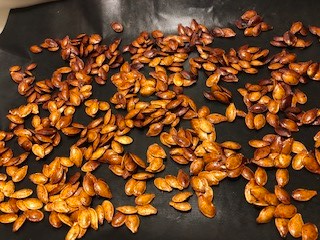 As you can see then get a lovely golden color and they taste delicious. They are crunchy and not too hard.
When they are cooled then store them in an air tight container, I nibble some daily!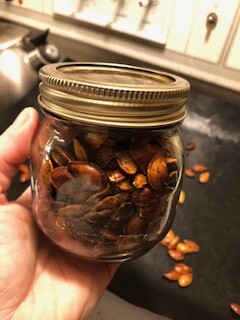 So why do I love this treat?

1. they are yummy, crunchy and sweet
2. They are packed with valuable nutrients
Fiber: 1.7 grams
Carbs: 5 grams
Protein: 7 grams
Fat: 13 grams (6 of which are omega-6s)
Vitamin K: 18% of the RDI
Phosphorus: 33% of the RDI
Manganese: 42% of the RDI
Magnesium: 37% of the RDI
Iron: 23% of the RDI
Zinc: 14% of the RDI
Copper: 19% of the RDI
3. They are high in antioxidants
4.Shown to improve prostrate and bladder health
5. High in Magnesium
6. High in Fiber
7. May improve sleep
another reason I use pumpkin seeds is ...
Pumpkin seeds have long been used as a traditional remedy for intestinal parasites — especially tapeworms. And their popularity seems to be well-earned. The reaction is believed to be caused by an amino acid in the seeds called cucurbitacin.
Growing up my family did regular parasitic cleanses in spring, however over the years has left this practice go to the side.

I choose to add these in just in case! Not sure if the amount I eat has any effect, however I am enjoying them anyway!

Do you roast your pumpkin seeds?




Love what you are reading here, subscribe to stay up to date!
You can also Follow me on the following social platforms...


I am have a number of affiliates and by clicking the link(s) in my posts, I may receive an income from your doing so, thank you for your support!