Aug 18, 2022 02:54 PM Central
Tammy Hawskworth
Hi Friend,
Steps to be Certified in Raindrop Technique has been more of a process than I anticipated, and I am enjoying every moment.

After playing at completing my practicum hours, offering Raindrops and Vita Flex session for a nominal fee for cover my cost of oils, which can be up to 250 drops per session, I travelled by driving with my husband to Barrie Ontario to complete my return demo.

Practicum happens after my initial training back in November 2021. I then have 2 years to complete my practice sessions and my return demo for certification. I am grateful for Isabelle for encouraging me to get my practice in for when she was going to Ontario, so we could be each other's practice person for our return demos.

The day arrived on August 3, 2022. We were both nervous and feeling grateful to be there. Jasmine, our proctor is so sweet. She watches as we demonstrate our skills and leads us into perfecting our techniques where we require minor adjustments. My hands are affected by arthritis and, as a result, find a few of the moves more challenging. I can do them, with some modifications.

While I was being demo person for Isabelle's presentation, we get a tornado warning for Barrie area on our phones. "Yikes, what do we do?"" Do we need to take shelter somewhere?" Jasmine tells they had a warning one week before as well, and one of the ladies who would be in the next three day trainings had her home destroyed and was living out of bins as her home is being repaired. ( hmmm, really, do we need to take shelter???).


Anyway we contact our partners and make a plan. Hubby is going to get a taxi to Jasmine as she has a cold room we can bunk in if needed. My head is down in the massage table cradle and I can't see what is happening. I am able to peek and see the weather doesn't seem to bad. I do my prayer thing while I'm on the table(yup seems like a great time to get some divine help).
We continue with our session, there was no tornado, and weather improved, thankfully. This threw timing off big time for our return demos. There are typically timed at 2 hours to demo and teach each technique.

Isabelle, passes with ease. Yay! So excited for you Isabelle, you will bless many people with your skills and your big heart.

My turn, I was able to make some adjustments as I was able to be there for Isabelle, presentation. I was nervous though as we were now late and I had never been in an area with a tornado warning before. Hubby has arrived and is sitting on the sofa waiting for my demo completion.

Jasmine agreed that Vibration and Chromatic Raindrop would be great options for me as my hands struggle with a couple techniques. She said I would be able to take the classes she was offering the next three days. Yay!. I was hoping I would be able to since I was already there and instead of making another trip.
And Yes! I successfully completed my return demo as well. I am now Certified as Raindrop Technique Specialist. I now get to complete my online training as a Licensed Spiritual Healer(required by Canada to offer my service for a full fee).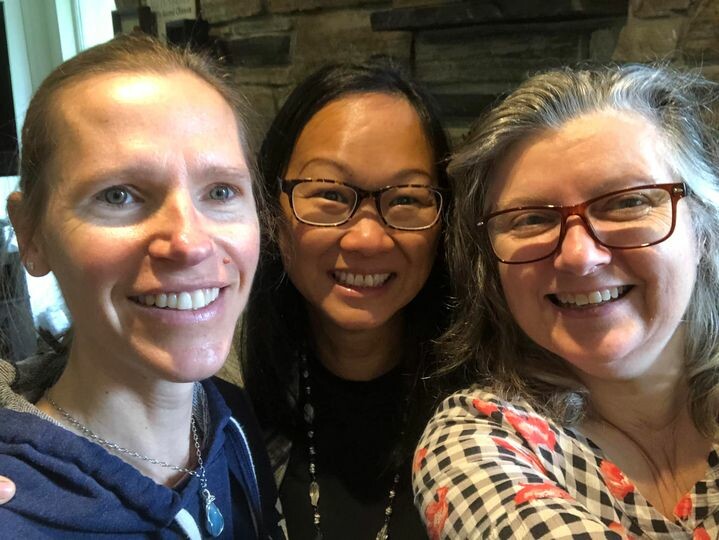 If you have not heard of or experienced Raindrop Technique, I invite you to do a little research. Essential OIls are dropped like rain onto your back and anointed on you with feathering like strokes. Vitaflex is used to anoint your feet and apply oils there first. The technique is very relaxing and many of my receivers drift off to sleep near the end.
Are you local and Ready to book your session? you can do so
here
!

Benefits vary widely from person to person.
What will your experience be?
Love what you are reading here, subscribe to stay up to date!
You can also Follow me on the following social platforms...


I am have a number of affiliates and by clicking the link(s) in my posts, I may receive an income from your doing so, thank you for your support!